DOSBox 0.74-2 32bit's vmem base pointer is 0x01D1ABFC
DOSBox 0.74 32bit's vmem base pointer is 0x01D3A1A0
DOSBox 0.73 32bit's vmem base pointer is 0x01D3FD40
DOSBox r4132 32bit's vmem base pointer is 0x01F7942C
Add Address Manually > [X] Pointer > (type in) 0x01D3A1A0 > (press) OK.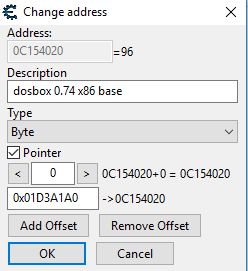 You should see in the Address column "P->(ADDRESS)". That is your temporary vmem base address.

Use cheat engine and find some values. This will give you a temporary address for the value.

Open Windows 10 calculator in Programmer mode and press Hex. Or, find a hex calculator website.
Put in your temporary address for the value you found and minus the vmem base address. This will be your offset.